Have you heard about the latest innovation in Bitcoin (BTC)?
Bitcoiners have begun to stake their claim in the Bitcoin blockchain, establishing ownership and carving out their place in the emerging Bitmap.

"Bitmap is an open-source standard that enables individuals to establish ownership of a Bitcoin Block by inscribing it onto a Satoshi using Ordinals and the Bitmap standard.

This process is both equitable and decentralized, empowering any Bitcoin block to become an integral part of the Metaverse through the expenditure of energy." -King Arf

Unlike the virtual world envisioned by Big Tech companies, Bitmap offers individuals the opportunity to own their data, escaping the confines of a centralized Metaverse that perpetuates digital slavery.

This exciting development, intertwined with the world of non-fungible tokens (NFTs), is revolutionizing the way we perceive and interact with Bitcoin.

The innovation that has taken place since Casey Rodarmor helped bring Ordinals to the world should not be overlooked.
There is a first-mover advantage here. See for yourself!
Watch the Full Interview
Watch on: Odysee | Rumble | YouTube | BitChute | Twitter | Vigilante.tv
My goal with this latest walk and talk was not solely to break this news to you.
My goal was to help break any limiting beliefs that may be holding you back from being on the cutting edge of Bitcoin.
This first required me to take some time and go deep into nature to reflect on my own beliefs.
Though I resonate most with the Big Blocker mindset, I had to take a step back and acknowledge what the market is demanding right now.
The on-chain innovation that has taken place within Bitcoin SV (BSV) over the last five years is now being applied to Bitcoin (BTC).
Although BSV is more efficient and scaleable than BTC, the majority of human capital is focused on BTC. Not only on the tech side but also on the financial side (as we've seen with the pending BlackRock BTC ETF).
The path to Hyperbitcoinization is underway, and it is great to see more on-chain activity within BTC. A wise vigilante will choose to flow downriver as opposed to going against the current.
If that is you, I highly suggest joining me on this walk and talk.
Peace, love, and anarchy.

Follow me on Twitter @VamosVigilante

Don't miss my new workshop on the two most important issues of our time, The Answer to A.I. and the Solution to the Crypto Onboarding Problem. I believe that we need to get this information out so strongly that we're giving it to you for free. Click here for the answer.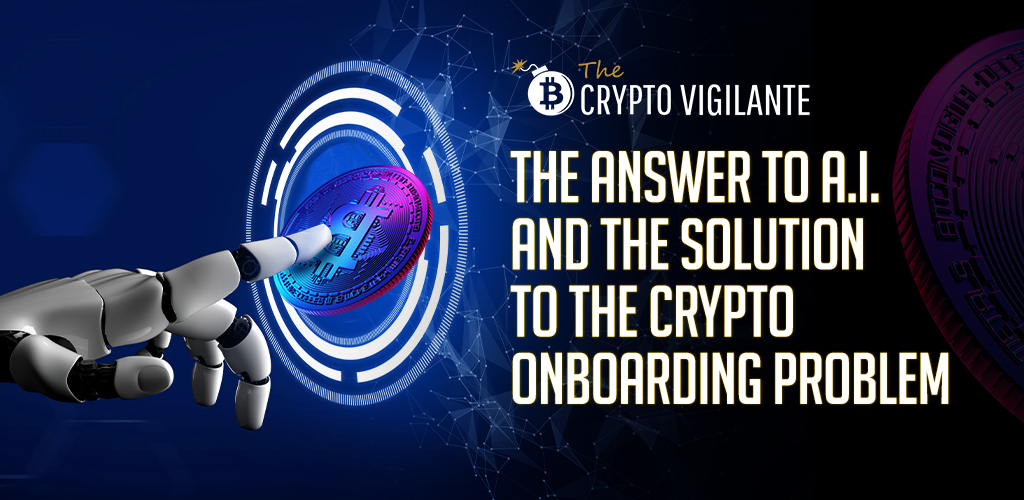 Are you worried about the impact of recent bank failures and how they will affect your financial future? With the right information, you don't have to be… On March 24th, 2023 The World's Top Crypto Analysts, Economists, & Crisis Investors Held A Privately Live-streamed "Emergency Banking Collapse" Round Table Event… Click here to claim your virtual seat at the table!

NEW Video: TDV Senior Analyst Ed Bugos shares what he believes will be the biggest short!
TCV Summit: Hardware Basics Edition | TCVsummit.com ⬅️ Replay videos now available!
Download our free Crypto Privacy Guide: https://CryptoVigilante.io/convoy

The Crypto Vigilante (SUBSCRIBE) is the premier financial newsletter specializing in crypto-asset markets. Follow TCV on BitChute, Facebook, Flote, Gab, Instagram, MeWe, Minds, Odysee, Rumble, Substack, TikTok, Twetch, Twitter, Vigilante.tv, and YouTube.
Really want to be on the pulse of crypto? Get access to our June newsletter for 62 pages of cutting-edge information you won't find anywhere else! Subscribe for access.

Intro music video by The Reclamation of Personal Data – The Blockchain Anthem (by inverse K)
Podcast: Play in new window | Download
Subscribe to the TCV podcast: RSS