When Jeff Berwick decided to pass the torch to a new host of the Anarchast Show, the bar was set high.
Within weeks, Anarchast was reborn with none other than Patrick Smith. Since then, he has succeeded at progressing the message of true Anarchy and bringing on countless guests who are doing the same.
It was great to finally sit down with him and discuss the real-time unfoldings regarding the most known blockchain protocol in existence, Bitcoin.

Patrick asked, "Where are we at?" I cheered, "Anarchapulco, baby!"

Not only are on-location interviews his favorite to conduct, but this had occurred at the exact time that the BTC Small Blockers were being put to the test with the release of the Ordinals NFT series.

I explain, "One 4 MB picture fills up the entire BTC blockchain. What's happening is that the Big Blockers of Bitcoin (BSV), like myself, are simply waging a war with art. We are filling up the BTC blockchain with pictures right now."

As a holder of BTC, this may not be music to your ears. However, the winning blockchain protocols will be those with the BEST technology. BTC might still have that potential, but the success of Ordinals is revealing some critical cracks in the code.

How did this come to be? Was this intended by design, or did someone or some group of people conspire to limit Satoshi's Vision? I explain this in full detail in this raw and honest interview.

Even Patrick says, "(BTC) may not have started out as a psyop, but it was probably captured."

Watch the full video now and discover what many "crypto experts" are turning a blind eye to.
Enjoy the full video here:
Watch on: Odysee | Rumble | YouTube | BitChute | Facebook | Vigilante.tv
When Patrick and I began this interview, neither of us had expected our discussion to revolve around the aftermath of the Bitcoin Civil War.

He and I are both privacy advocates at heart. However, he is also aware that something is not right about the current use and perception of Bitcoin (BTC). He affirms this by stating, "I was never bullish on the Lightning Network."

I explain, "The Lightning Network is a central planner to oversee our transactions."
Patrick had many great questions surrounding Bitcoin, but his biggest question was, "What is Hyperbitcoinization?"

I describe, "Hyperbitcoinization is the moment in time when the entire global market goes to the blockchain." For a full definition of this, I recommend reading this important article by the man who coined the term, Daniel Krawisz.

I could keep writing about the topics in this interview. But, the only way to truly benefit from the information shared is to hear it yourself in context.
The opportunity as a holder, builder, and participant in blockchain has never been more exciting. As long as you use the best technologies that align with your values of freedom, Austrian Economics, and free market capitalism, then you are poised to win.
I could not think of a better way to wrap up an amazing Anarchapulco, than on the Anarchast show! Watch the full video now and let me know your thoughts in the comments.

Follow me on Twitter @VamosVigilante
Follow Patrick Smith and Anarchast on Twitter

Don't miss my new workshop on the two most important issues of our time, The Answer to A.I. and the Solution to the Crypto Onboarding Problem.  I believe that we need to get this information out so strongly that we're giving it to you for free.  So, hit that link and get ready to dive deep.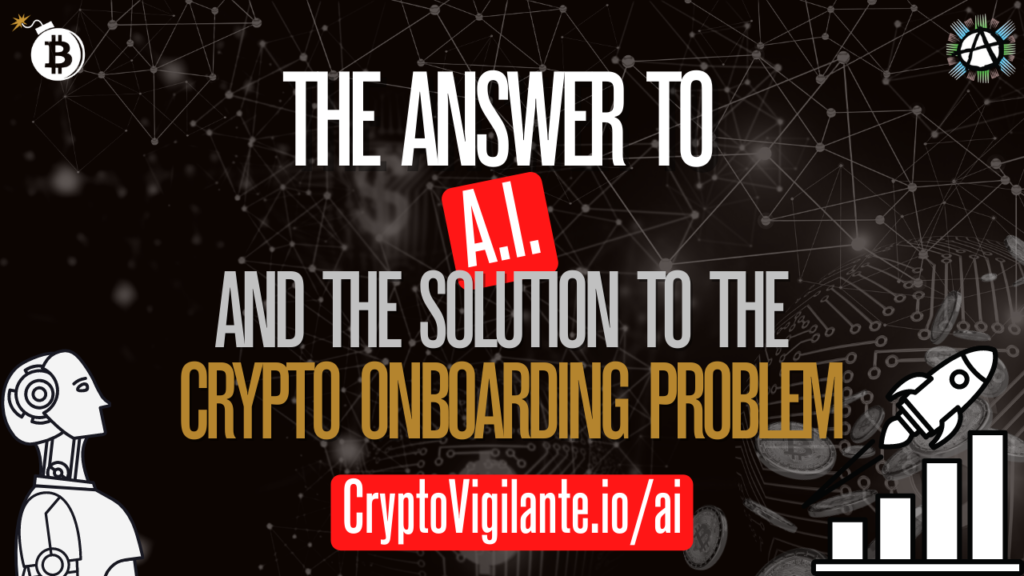 NEW Video: TDV Senior Analyst Ed Bugos shares what he believes will be the biggest short!
TCV Summit: Hardware Basics Edition | TCVsummit.com ⬅️ Replay videos now available!

Download our free Crypto Privacy Guide: https://CryptoVigilante.io/convoy
The Crypto Vigilante (SUBSCRIBE) is the premier financial newsletter specializing in crypto-asset markets.  Follow TCV on BitChute, Facebook, Flote, Gab, Instagram, MeWe, Minds, Odysee, Rumble, Streamanity, Substack, TikTok, Twetch, Twitter, Vigilante.tv and YouTube.
Podcast: Play in new window | Download
Subscribe to the TCV podcast: RSS