What up, Vigilantes? We've got a special treat for you today. I had the honor of speaking with Mr. A, a Crypto Vigilante Market Technician who has been charting Bitcoin since 2010! If you're a Crypto Vigilante subscriber, you already know how much of a wizard this guy is. If you aren't, by the end of this interview, you'll see first-hand one of the many reasons why you should be…
Mr. A and I discussed several mind-blowing things, such as the logarithmic development channels of various cryptocurrencies and the remarkable potential of Monero and Dero, with the help of his extensive expertise and keen insights into the crypto industry.
Mr. A spoke about the anti-fragile character of the cryptocurrency market and how the network of investors remains vigilant in the face of suspicious actions as we dug into the world of scams, such as FTX and Luna, which temporarily caused a crash in Bitcoin's value. We also discussed how Wall Street and political maneuvers affect the market and how this leads to a rise in Bitcoin trust.
When we talked about Monero and its possible breakout to launch a new bull market, the conversation took an optimistic turn. If that happens, Mr. A believes Monero might increase to $3,300 by the end of 2024! That would definitely put some Lambos in some garages. Additionally, we looked into the declining state of BSV and the potential of Pirate Chain. Of course, we explored privacy-focused Dero, which Mr. A believes has enormous promise.
Mr. A and I couldn't help but talk about the contentious Pirate Chain as we resumed our exploration of the cryptocurrency environment. Due to FOMO and wallet outages, this outstanding privacy coin suffered a parabolic spike that created a liquidity crisis on the sell side. Mr. A emphasized the requirement for a significant dump to reset the market in order for the market to turn bullish anymore. Follow Mr. A's recommendation if you're considering investing in Pirate Chain: purchase low and be ready for it to possibly sink even lower. He revealed that it could take two to three years for it to reset, exactly as Monero, which took four years, even though he doesn't anticipate it to hit $100 once more.
The possibilities here are endless when considering that USD is in hospice right now…
Watch the Full Interview
Watch on: YouTube | Facebook | Odysee | Rumble | Vigilante.tv | Bitchute
Another privacy-focused cryptocurrency called Dero gained attention after Mr. A dubbed it the most bullish development he has witnessed in ten years. The coin's potential appears astounding, with a possible price of $442 by mid-2024. The Dero network, which lets users purchase, sell, and generate their own tokens, was then covered. We discussed the potential of NFTs during our talk, and Mr. A even posted his two collections online. We also talked about the potential for automatic bidding on the blockchain, which prompted me to propose a fresh concept for a collection with a mask motif. In the Dero network, NFTs appear to have countless potential applications, and the excitement about them is evident.
We discussed the notion of the Netflix series "Money Heist" and the fascinating NFTs related to it to conclude our fascinating discussion. Mr. A clarified the characteristics of these NFTs as well as the purchasing and selling processes. Additionally, we talked about the revolutionary notion of representing time with NFTs; consider exchanging an NFT for an hour of consultation with Mr. A. We discussed NFTs and their connection to logarithmic channels as the talk came to a conclusion. Mr. A expressed gratitude to TCV subscribers for their support and urged everyone to keep building their wealth in the vibrant and always-changing world of cryptocurrencies.
My conversation with Mr. A was nothing short of remarkable and opened up fresh perspectives in the constantly growing cryptocurrency industry. We closed our meeting with a fresh sense of optimism for what the future holds as he expressed his thankfulness for TCV subscribers. This is more than a newsletter. When you join you're becoming a part of our research club, so let's continue learning together.
Peace, love, and anarchy.

Follow me on Twitter @VamosVigilante
Follow Mr. A on Twitter @tcvmra
Don't miss my new workshop on the two most important issues of our time, The Answer to A.I. and the Solution to the Crypto Onboarding Problem. I believe that we need to get this information out so strongly that we're giving it to you for free. So, hit that link and get ready to dive deep.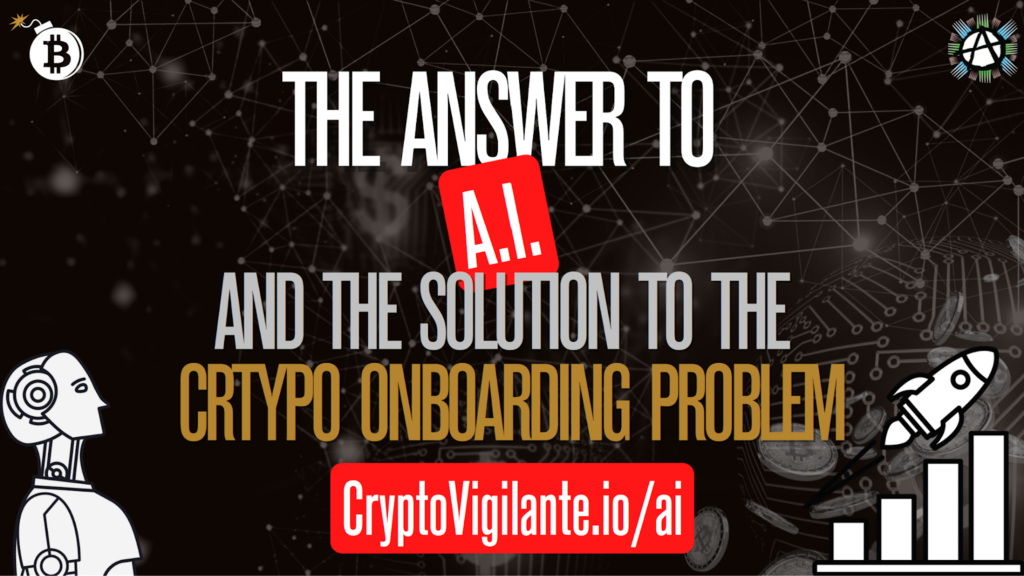 Are you worried about the impact of recent bank failures and how they will affect your financial future? With the right information, you don't have to be… On March 24th, 2023 The World's Top Crypto Analysts, Economists, & Crisis Investors Held A Privately Live-streamed "Emergency Banking Collapse" Round Table Event… Claim your virtual seat at: https://CryptoVigilante.io/RoundTable
NEW Video: TDV Senior Analyst Ed Bugos shares what he believes will be the biggest short!
TCV Summit: Hardware Basics Edition | TCVsummit.com ⬅️ Replay videos now available!
Download our free Crypto Privacy Guide: https://CryptoVigilante.io/convoy
The Crypto Vigilante (SUBSCRIBE) is the premier financial newsletter specializing in crypto-asset markets. Follow TCV on BitChute, Facebook, Instagram, Odysee, Rumble, TikTok, Twitter, Vigilante.tv, and YouTube.
Podcast: Play in new window | Download
Subscribe to the TCV podcast: RSS