Networks are becoming more important than ever and I've got a fascinating conversation to share with you from some true crypto champions in my network, the hosts of the BullishAF Podcast. It was an electrifying discussion about the future of crypto, privacy, and the value of trust and networks. Here are some of the key takeaways from our talk:
Building Trust in the Crypto World
First things first, I got a chance to talk about the Crypto Vigilante newsletter, which has been a fantastic platform for us to share operational security, technical analysis, and fundamental analysis. We're an ever-growing community of researchers, connected through a web of trust, built on the foundations laid down by Jeff Berwick.
One of the main themes from our conversation was the critical importance of networks of trust in the ever-changing landscape of crypto investments. In an age where AI technology is advancing at breakneck speed, it's crucial to know who to trust online. Privacy coins are gaining popularity, and we need to be cautious and vigilant in using them to prevent Sybil attacks.
Proof of Work vs. Proof of Stake: A Fundamental Divide
During our chat, we also touched on the fundamental differences between proof of work and proof of stake models, with the former being more competitive and capitalist while the latter more socialist in nature. This distinction has attracted the interest of Silicon Valley bigwigs, and it's worth considering how these models will shape the future of crypto.
The Journey Towards Privacy and Freedom
As we delved deeper into privacy, I shared my journey from "normal" cryptos to privacy coins, all thanks to a transformative conversation with Cody Wilson. Privacy is essential for protecting ourselves from intrusive technologies that threaten our freedoms. To ensure our liberty, we need to understand the risks and take proactive measures.
Power of Community and Collaboration
We also discussed the power of community and how aligning with like-minded individuals can prepare us for the challenges ahead. Even though we might have differing opinions on where to find that community, we agreed on the idea that people standing up together can put an end to the era of violence and oppression.
Speaking of community, go ahead and watch the interview and drop us a comment to let us know what you took from this interview.
Watch the Full Interview
Watch on: YouTube | Facebook | Odysee | Rumble | Vigilante.tv | Bitchute
Innovative Blockchain Projects and the Decentralized Economy
NFTs and innovative blockchain projects, like the Hydro Hippos Mining Club, can offer game-changing opportunities in the decentralized economy. These projects open up new avenues for generating income, disrupting traditional models, and empowering people around the globe.
Choosing the Right Investments: Research and Critical Thinking
Our conversation shed light on the importance of research, especially when choosing projects and privacy coins to invest in. Both Pirate Chain and Dero offer groundbreaking privacy features, making them solid choices for those looking to secure their digital assets.
However, we also highlighted the unfortunate reality that many people don't take the time to read and research before making investment decisions. Clearly, if you're reading this, you are not one of those people, but we have many in our audience who will simply look at a title of our reports and just run and buy whatever crypto we're talking about without any further research or thought.
Come on guys, let's not be sheep…
We urged the importance of critical thinking and encouraged our listeners to be bullish on themselves and their ability to grow and network within the crypto space.
Taking Responsibility, Striving for Self-Improvement, and Fostering Cooperation
Ultimately, our conversation was a whirlwind of ideas and insights about the importance of privacy, trust, networks, and personal growth in the world of crypto. Let's continue to take responsibility for our actions, strive for self-improvement, and foster cooperation in the free market.
Stay vigilant and remember: knowledge is power!

Follow me on Twitter @VamosVigilante
Follow BullishAF on Twitter @Bullishasfuk
Subscribe to the BullishAF podcast on YouTube @BullishAsFuck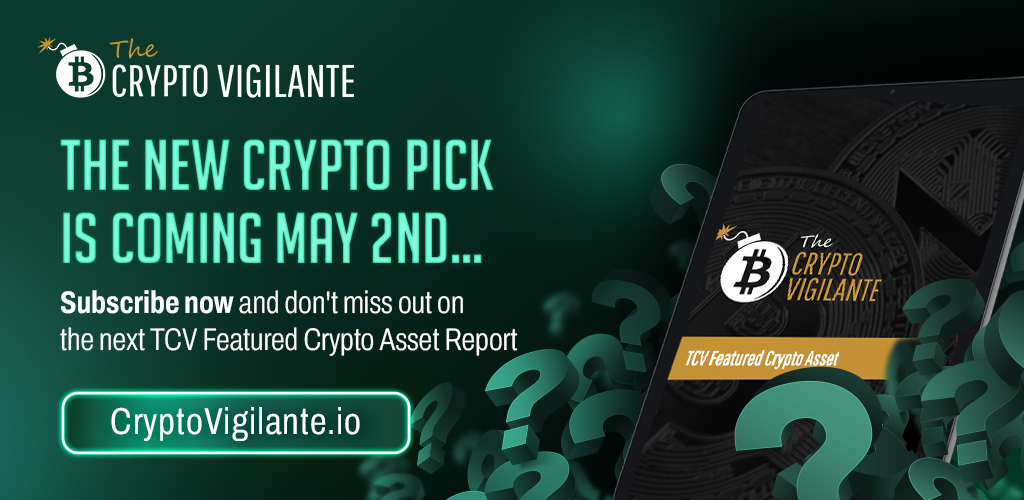 Don't miss my new workshop on the two most important issues of our time, The Answer to A.I. and the Solution to the Crypto Onboarding Problem.  I believe that we need to get this information out so strongly that we're giving it to you for free.  So, hit that link and get ready to dive deep. 
Are you worried about the impact of recent bank failures and how they will affect your financial future? With the right information, you don't have to be… On March 24th, 2023 The World's Top Crypto Analysts, Economists, & Crisis Investors Held A Privately Live-streamed "Emergency Banking Collapse" Round Table Event… Claim your virtual seat at: https://CryptoVigilante.io/RoundTable
NEW Video: TDV Senior Analyst Ed Bugos shares what he believes will be the biggest short!
TCV Summit: Hardware Basics Edition | TCVsummit.com ⬅️ Replay videos now available!
Download our free Crypto Privacy Guide: https://CryptoVigilante.io/convoy
The Crypto Vigilante (SUBSCRIBE) is the premier financial newsletter specializing in crypto-asset markets. Follow TCV on BitChute, Facebook, Instagram, Odysee, Rumble, TikTok, Twitter, Vigilante.tv, and YouTube.
Podcast: Play in new window | Download
Subscribe to the TCV podcast: RSS