What up, Vigilantes? At the Young Americans for Liberty conference, I had a thrilling debate with the brilliant Kareem Maize. Our chat covered a wide range of cryptocurrency subjects, including sound money and NFTs, as well as altcoins and Ethereum 2.0. So buckle up and prepare to be immersed in the fascinating worlds of decentralization, privacy, and the future of cryptocurrency!
Kareem and I investigated the fast-expanding world of decentralized autonomous organizations (DAOs), emphasizing the critical need for censorship resistance and privacy by default. We were astounded by the increasing popularity of NFTs and the game-changing impact of personalities such as Roger Ver on the crypto industry.
And thank God for Roger Ver, as he's one of the only reasons crypto isn't entirely controlled by lizards…
As a fervent supporter of Bitcoin, I am convinced that it is the most magnificent creation in the crypto world, even to this day. Bitcoin's pioneering proof of work and revolutionary programming language, Bitcoin Script, are spectacular innovations that the lizards have fought to keep hidden. Kareem proposed a fascinating theory: Bitcoin might have tested everything we see in the altcoin market on its own blockchain, potentially skyrocketing its price.
Our discussion took an interesting turn when we addressed Bitcoin's potential to alter world finance by making war prohibitively expensive and enabling contracts with a decentralized currency. It's a lot easier to engage in endless empire-building wars when you can make the money printer go "brrr"…
We discussed the ability of platforms like Odyssey to challenge huge internet firms and emphasized the importance of Bitcoin miners remaining autonomous, preserving critical data from Wall Street and Silicon Valley.
Watch the Full Interview
Watch on: YouTube | Facebook | Odysee | Rumble | Vigilante.tv | Bitchute
Another fascinating topic Kareem and I discussed was the significance of privacy coins like Monero in resisting elite domination. These currencies' untraceability makes them an essential weapon for people seeking financial freedom and independence.
You know I had to school him about DERO…
We also investigated the possibility of decentralized exchanges (DEXes) and non-fungible tokens (NFTs) to undercut the elite's hold on power and nurture a meritocracy of value. We discussed the Nakamoto Consensus and the false ethos, emphasizing the importance of privacy by default.
Another hot issue was the amazing potential of Bitcoin and NFTs to replace traditional governments and build a value-driven meritocracy based on proof of work. Kareem described his concept for NFTs as physical things such as signatures or as a way to earn cash in games.
Finally, Kareem urged everyone to engage in their own education so that they can make informed decisions on crypto investments. He strongly argued that decentralized social collaboration is superior to central planning, and he reminded us that anarchy is simply the quest for freedom and independence.
That's all there is to it, guys! Our stimulating conversation with Kareem Maize at the Young Americans for Liberty conference covered a wide range of contentious crypto subjects. You know I'm no stranger to speaking my mind and going against the grain. Stay tuned for more enthralling discussions as we continue our adventure into the world of crypto!
Peace, love, and anarchy.

Follow me on Twitter @VamosVigilante
Follow Kareem Maize on Twitter @kareem6633
Subscribe to Kareem's YouTube @CryptoDexWorld
Don't miss my new workshop on the two most important issues of our time, The Answer to A.I. and the Solution to the Crypto Onboarding Problem. I believe that we need to get this information out so strongly that we're giving it to you for free. So, hit that link and get ready to dive deep.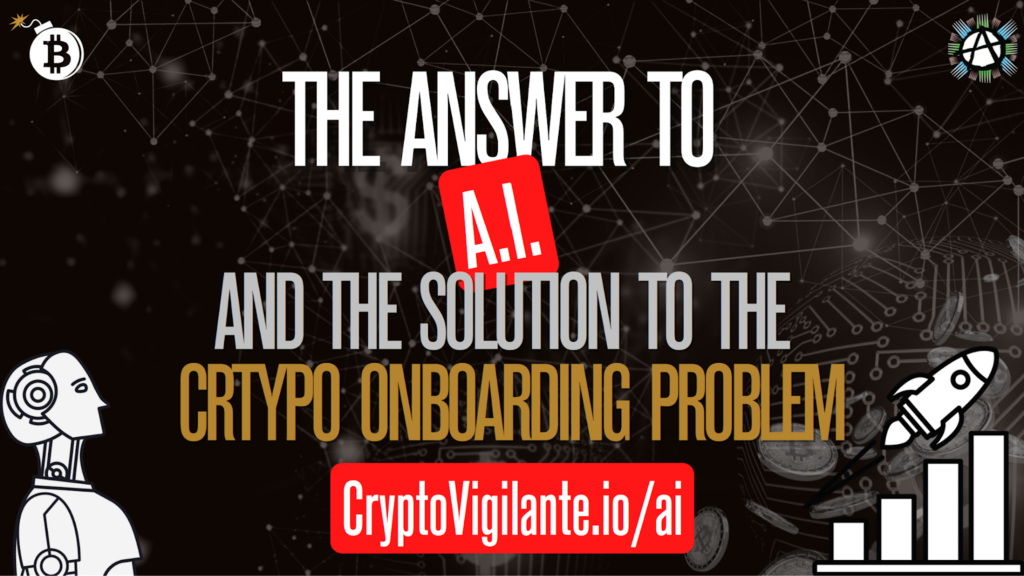 Are you worried about the impact of recent bank failures and how they will affect your financial future? With the right information, you don't have to be… On March 24th, 2023 The World's Top Crypto Analysts, Economists, & Crisis Investors Held A Privately Live-streamed "Emergency Banking Collapse" Round Table Event… Claim your virtual seat at: https://CryptoVigilante.io/RoundTable
NEW Video: TDV Senior Analyst Ed Bugos shares what he believes will be the biggest short!
TCV Summit: Hardware Basics Edition | TCVsummit.com ⬅️ Replay videos now available!
Download our free Crypto Privacy Guide: https://CryptoVigilante.io/convoy
The Crypto Vigilante (SUBSCRIBE) is the premier financial newsletter specializing in crypto-asset markets. Follow TCV on BitChute, Facebook, Instagram, Odysee, Rumble, TikTok, Twitter, Vigilante.tv, and YouTube.
Podcast: Play in new window | Download
Subscribe to the TCV podcast: RSS