What do you get when you combine 3D-printed guns, Bitcoin, and a relentless pursuit of freedom? You get an unforgettable experience at the Guns N' Bitcoin conference. I had the pleasure of interviewing Garret, a software engineer for Defense Distributed, the company at the forefront of the home gunsmithing revolution. And let me tell you, this was such a memorable conversation.
Picture this: I'm sitting with Garret, a man who's been with Defense Distributed for over five years, and we're discussing everything from the early days of the company, the future of 3D printed firearms, and their ongoing legal battles against the government. It felt like I was witnessing the birth of a whole new era in the fight for our right to bear arms and free speech.
The crazy thing is, I was there in the early days in a reading group called the Mises Circle in Austin, Texas where Cody Gave gave some of his original presentations that started the whole Defense Distributed story…
Defense Distributed started with the Liberator, a 3D-printed gun that blew everyone's minds when it was first released. Since then, they've developed the Ghost Gunner, a CNC milling machine that allows people to create their own firearms at home. As Garret explained, the Ghost Gunner has gone through several iterations, each more powerful and precise than the last. This is some seriously cutting-edge stuff, and I couldn't help but feel a mix of excitement and awe as we delved into the technical details.
Check out the video and let us know in the comments if you feel the same…
Watch the Full Interview
Watch on: Odysee | Rumble | Vigilante.tv | Bitchute
Of course, with great power comes great responsibility… and a whole lot of legal challenges. Defense Distributed has been embroiled in numerous lawsuits, fighting to assert our right to free speech and the distribution of 3D-printed firearm files. And as Garret put it, they're going to keep fighting because they have the correct legal position, and they're not backing down. You've got to respect that level of dedication and tenacity.
What really struck me during our conversation was the sense of camaraderie and shared purpose within the 3D-printed gun community. When I asked Garret about the arrival of Deterrence Dispensed (now moving to The Gatalog) and the tragic loss of Jay Stark, you could feel the passion and determination in his words. It's clear that the community has been galvanized by these events, and the fight for freedom has only grown stronger.
The future for Defense Distributed looks bright. As Garret explained, they're working on new projects and continuing to innovate in the field of home gunsmithing. They also accept cryptocurrency as payment for their products, which just goes to show how committed they are to pushing the boundaries and embracing new technology. I mean, come on, guns and crypto? It doesn't get much cooler than that.
As our interview came to a close, I couldn't help but feel inspired by the spirit of defiance and the pursuit of liberty that emanated from every word Garret spoke. Defense Distributed and the entire 3D-printed gun community are fighting for our rights, and they're doing it with style. It was an absolute honor to sit down with Garret, and I can't wait to see what they come up with next.
So, to all you freedom-loving, gun-toting, crypto-holding vigilantes out there, keep your eyes on Defense Distributed. They're on the frontlines of this battle, and they need our support. As for me? I'll be eagerly watching their progress and cheering them on every step of the way.
Peace, love, and anarchy.

Follow me on Twitter @VamosVigilante
Follow Defense Distributed on Twitter @DefDist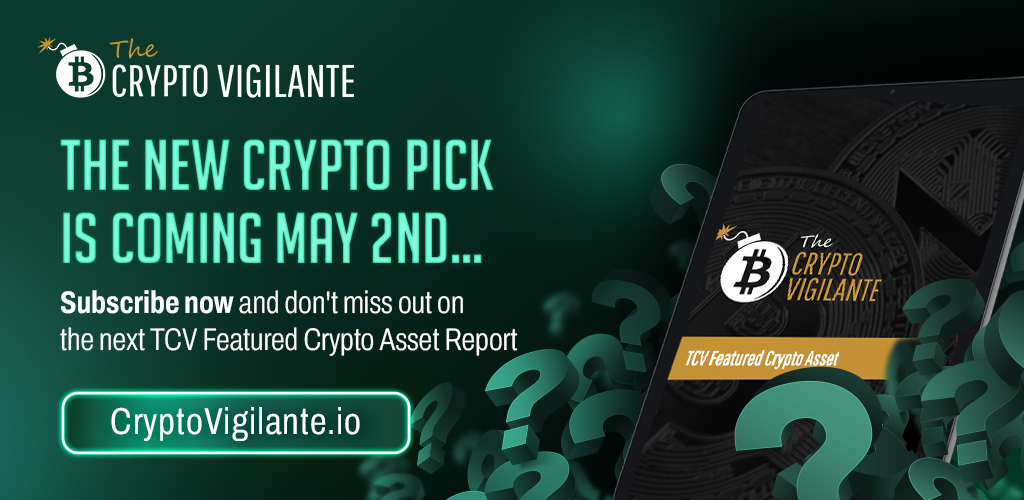 Don't miss my new workshop on the two most important issues of our time, The Answer to A.I. and the Solution to the Crypto Onboarding Problem. I believe that we need to get this information out so strongly that we're giving it to you for free. So, hit that link and get ready to dive deep.
Are you worried about the impact of recent bank failures and how they will affect your financial future? With the right information, you don't have to be… On March 24th, 2023 The World's Top Crypto Analysts, Economists, & Crisis Investors Held A Privately Live-streamed "Emergency Banking Collapse" Round Table Event… Claim your virtual seat at: https://CryptoVigilante.io/RoundTable
NEW Video: TDV Senior Analyst Ed Bugos shares what he believes will be the biggest short!
TCV Summit: Hardware Basics Edition | TCVsummit.com ⬅️ Replay videos now available!
Download our free Crypto Privacy Guide: https://CryptoVigilante.io/convoy
The Crypto Vigilante (SUBSCRIBE) is the premier financial newsletter specializing in crypto-asset markets. Follow TCV on BitChute, Facebook, Instagram, Odysee, Rumble, TikTok, Twitter, Vigilante.tv, and YouTube.
Podcast: Play in new window | Download
Subscribe to the TCV podcast: RSS