What up, Vigilantes? Rafael LaVerde here, and I while in Acapulco had the pleasure of interviewing Raul, the owner of Cletas Cafe and Bonfil Bikes in Acapulco, Mexico's beautiful Bonfil beach area. I wanted to share this incredible experience with you all, and believe me, it was a blast!
Raul has been running Cletas Cafe for eight years, and it has become a popular hangout for Anarchapulco attendees. Why? Raul accepts payment in both Bitcoin and Monero. When I first met him and asked if he accepted Bitcoin, he said yes, but he preferred Monero!
Raul only started accepting cryptocurrencies as payment this year, in 2023. He believes that embracing cryptocurrency has benefited his business by attracting more customers who value privacy and security. It's not just the coffee shop; Raul's Bonfil Bikes accepts Bitcoin and Monero for bike rentals, allowing visitors to explore the area's beautiful bike trails.
He revealed during our conversation that he has three more stores in Acapulco that accept cryptocurrency. He is encouraged by the growing trend of businesses accepting cryptocurrencies because it means more business for everyone. Raul is also enthusiastic about the grassroots effort to transform Bonfil into a true "Bitcoin Beach," following El Salvador's lead.
Raul was humble and grateful for the support when I asked him how he felt about becoming famous in the Bitcoin world. He is ecstatic to meet like-minded people from all over the world and hopes that the trend continues, making cryptocurrency acceptance a way of life.
You really have to watch the video to get a feel for how good a guy he is, and how his willingness to confront fear to adopt something new has enriched his life…
Watch the Full Interview
Watch on: Odysee | Rumble | YouTube | Facebook | Vigilante.tv
So, Vigilantes, the next time you're in Acapulco, stop by Cletas Cafe and Bonfil Bikes. Tell Raul that the Crypto Vigilante sent you, and he'll look after you well. Enjoy Acapulco Bay and help businesses like Raul's embrace the future of privacy and financial freedom through cryptocurrencies.
This also demonstrates that, as cryptocurrency advocates, we play an important role in promoting digital currency adoption in local communities. We can dispel misconceptions, demonstrate benefits such as lower fees and faster transactions, and ultimately contribute to a decentralized economy by engaging with businesses and educating them on the benefits of accepting cryptocurrencies. Building relationships with local businesses also fosters a sense of community by fostering a network of like-minded individuals who help each other promote and use cryptocurrencies.
Outreach efforts, in addition to raising awareness, can assist businesses in discovering novel ways to incorporate cryptocurrencies into their operations. We can help business owners make the transition to new payment gateways or point-of-sale systems as easy as possible by providing valuable guidance. As a result, by continuing to advocate for digital currencies, we not only help businesses thrive in a rapidly changing financial landscape, but we also contribute to the global growth and acceptance of cryptocurrencies. This is how Hyperbitcoinization takes place!
Until next time, peace, love, and anarchy!

Follow me on Twitter @VamosVigilante

Don't miss my new workshop on the two most important issues of our time, The Answer to A.I. and the Solution to the Crypto Onboarding Problem. I believe that we need to get this information out so strongly that we're giving it to you for free. So, hit that link and get ready to dive deep.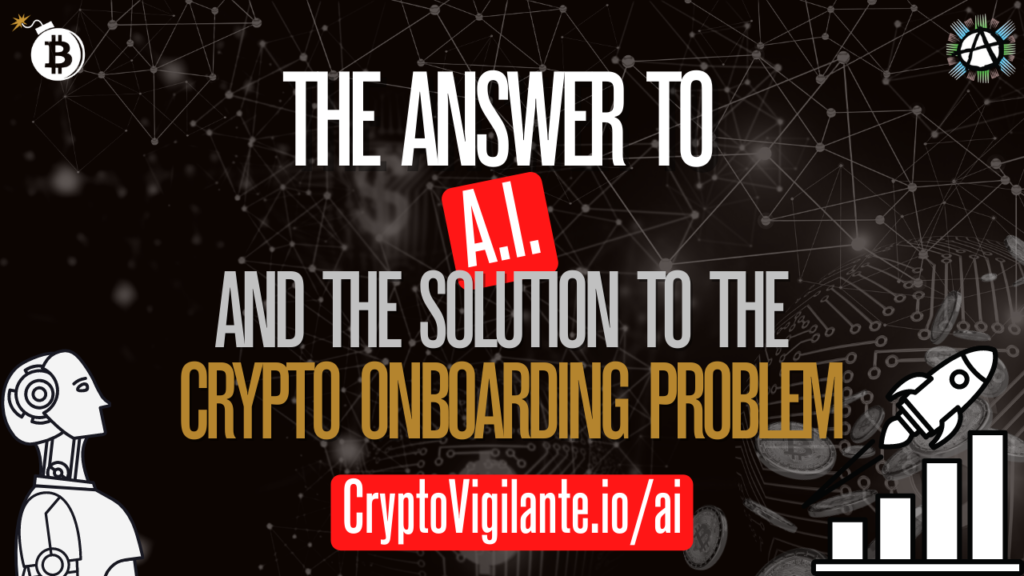 NEW Video: TDV Senior Analyst Ed Bugos shares what he believes will be the biggest short!
TCV Summit: Hardware Basics Edition | TCVsummit.com ⬅️ Replay videos now available!

Download our free Crypto Privacy Guide: https://CryptoVigilante.io/convoy
The Crypto Vigilante (SUBSCRIBE) is the premier financial newsletter specializing in crypto-asset markets. Follow TCV on BitChute, Facebook, Flote, Gab, Instagram, MeWe, Minds, Odysee, Rumble, Streamanity, Substack, TikTok, Twetch, Twitter, Vigilante.tv and YouTube.
Podcast: Play in new window | Download
Subscribe to the TCV podcast: RSS