What up Vigilantes? You know I'm all about education and helping to onboard people into the crypto mindset…
I recently spoke with Bex at the Young Americans for Liberty Conference and got to do just that. Our discussion sparked an exhilarating exchange of ideas and highlights the importance of open-mindedness, particularly for those unfamiliar with cryptocurrency, as well as the responsibility of seasoned crypto enthusiasts to guide newcomers in the right direction.
We explore the fundamentals of the world of Bitcoin, investigating its nature as a digital asset protected by unreplicable cryptographic signatures and triple-entry accounting. I emphasized the importance of understanding Bitcoin's limited supply and inflation-proof characteristics in light of the critical need to protect private keys and wallets. Of course, I had to blow Bex's mind by recounting the legendary Bitcoin civil war.
If you happen to be new to crypto, the Bitcoin civil war was a fascinating chapter in the history of cryptocurrency, as it showcases the passionate debate and ideological differences within the Bitcoin community. This conflict centered around the scalability and future direction of the Bitcoin network, particularly focusing on the size of blocks in the blockchain. The outcome of this contentious period led to the creation of Bitcoin Cash, a hard fork that split the original Bitcoin network. This event highlighted the significance of consensus, decentralization, and the challenges of balancing technology, politics, and economics within the rapidly evolving world of cryptocurrencies.
I explained to Bex how scaling Bitcoin is primarily accomplished through a layered approach these days, such as the Lightning Network, which enables seamless person-to-person transactions. That said, there is still a contingent of big blockers like myself that believe in building entirely on-chain as Satoshi intended.
You know how passionate I get about this topic. Watch the interview and drop us a comment so you can be a part of the conversation…
Watch the Full Interview
Watch on: Odysee | Rumble | YouTube | BitChute | Facebook | Vigilante.tv
We also discussed the Monero privacy coin and the importance of privacy in the ever-changing crypto space. To get started on their crypto journey, we recommend the open-source multi-coin wallet, Edge app.
As we know it, cryptocurrency is divided into two types: open and transparent coins and privacy coins. Solar punks advocate for openness and transparency, whereas lunar punks prioritize privacy above all else. Decentralized finance and financial instruments have their own set of protocols and compliance requirements, but there are privacy protocols and exchanges that allow for anonymous buying and selling for those looking to invest without the interference of the government.
The most important takeaway from our conversation was the recognition of cryptocurrency as a powerful tool that is available to everyone. It is, however, critical to educate oneself on proper usage and compliance. Bex and I came to the conclusion that whether you're looking for short-term transactions or long-term investments, all you need is an app and a trading community.
It is our responsibility as crypto enthusiasts to pique the interest of others and guide those looking to enter this revolutionary financial frontier. Let us work together to empower more people and create a world where financial freedom is a reality for all.

Follow me on Twitter @VamosVigilante
Are you worried about the impact of recent bank failures and how they will affect your financial future? With the right information, you don't have to be… Become Our "Special Guest" at the Virtual Banking Collapse Emergency Round Table this Friday, March 24th, 2023.
https://cryptovigilante.io/roundtable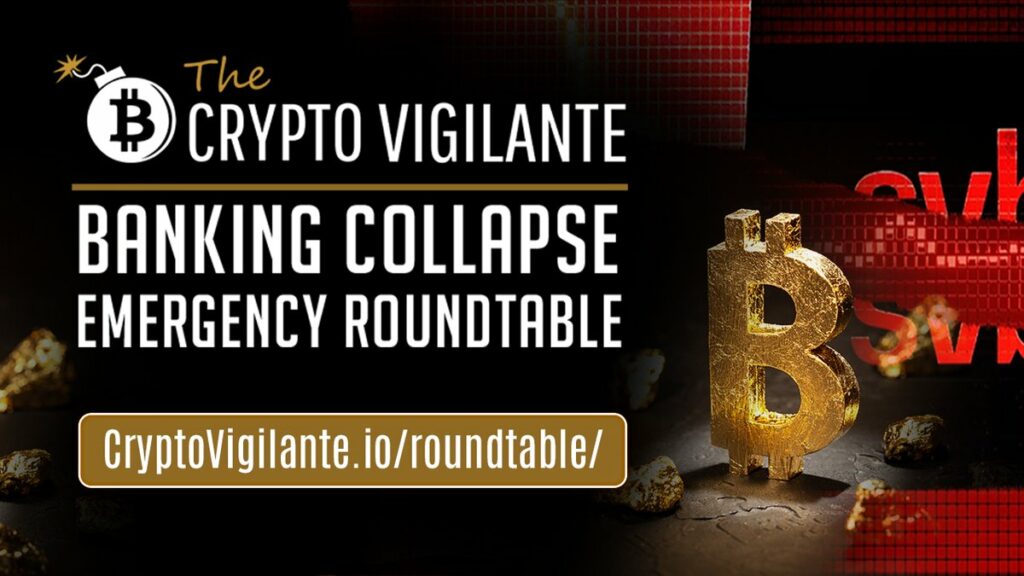 Don't miss my new workshop on the two most important issues of our time, The Answer to A.I. and the Solution to the Crypto Onboarding Problem. I believe that we need to get this information out so strongly that we're giving it to you for free. So, hit that link and get ready to dive deep.
NEW Video: TDV Senior Analyst Ed Bugos shares what he believes will be the biggest short!
TCV Summit: Hardware Basics Edition | TCVsummit.com ⬅️ Replay videos now available!

Download our free Crypto Privacy Guide: https://CryptoVigilante.io/convoy
The Crypto Vigilante (SUBSCRIBE) is the premier financial newsletter specializing in crypto-asset markets. Follow TCV on BitChute, Facebook, Flote, Gab, Instagram, MeWe, Minds, Odysee, Rumble, Streamanity, Substack, TikTok, Twetch, Twitter, Vigilante.tv and YouTube.
Podcast: Play in new window | Download
Subscribe to the TCV podcast: RSS