What up Vigilantes? After Anarchapulco, I met with Brent Kaufman, also known as BurntMD, and Danny Sessoms, also known as Aka Dan Akston, to discuss the potential of transforming Bonfil, a well-loved beach tow in Acapulco into the new Bitcoin Beach. 
If you don't know about Danny, he has been involved with cryptocurrency since 2012 and is known in the Anarchapulco community for using it to make a tangible difference, such as with his efforts with the Marsh Children's Home orphanage.
He hosts The Crypto Show on YouTube and is also involved in other charity work. He is a prime example of how cryptocurrency can be a force for good and is excited about the potential of the Bonfil project.
BurntMD on the other hand is a freedom-minded rapper and host of a podcast called Farms Not Pharms. He's a mad CBD scientist and a resident of Acapulco working to be of service to his community.
Danny saw the potential for cryptocurrency to make a difference in the community while BurntMD was inspired to create an independence program for an orphanage in Acapulco. They are collaborating to make Bonfil a center for cryptocurrency adoption and economic opportunity.
The beautiful thing is that it's working…
Yes, the project is already gaining traction, with rumors of a new conference called Cryptopulco to kick off Bonfil's international recognition as the Bitcoin Beach. The project has the potential to bring in new business opportunities and increase property values in the area and naturally, it has local businesses excited and wanting to get involved.
Though helping to bring prosperity and financial independence to this community is excellent on its own, Danny emphasizes the importance of making a genuine difference in the lives of the local community by reaching out to indigenous communities to promote education and empowerment.
You really want to hear about this new movement these guys are spurring…
Watch the Full Interview
Watch on: Odysee | Rumble | YouTube | BitChute | Facebook | Vigilante.tv
As we wrapped up our conversation, I couldn't help but feel energized by Danny Sessoms and BurntMD's passion and vision. Their efforts to transform Bonfil into the next Bitcoin Beach are truly inspiring, and I have no doubt that they will generate numerous business opportunities for the community. It's exciting to imagine how the community will thrive once the project takes off, and it's clear that they're both deeply committed to making a positive difference in the world through their work in the crypto space.
They also talked about Cryptopulco, a conference that may potentially take place in Bonfil that would kick off Bonfil's global recognition as the next Bitcoin Beach. It's incredible to see how the community is banding together to celebrate the power of cryptocurrency and draw attention to the astonishing work that Danny, BurntMD, and others are doing in the space. I'm excited to see what the future holds for Bonfil and the crypto community in general.

I want to leave you with this gem of wisdom BurntMD dropped on us…
"I think painting with the colors that I wish to see creates the painting that I wish to see. And when there's no love and I want love and I give love, now there's love. So to be the solution, to identify a problem is to understand that there's a solution. It's not a problem if there's no solution. And if there's a solution, then is there really a problem? And so if there's a problem and we have the ability to respond, then we can be responsible and step up where we see a niche that can be filled. Because we were made for a reason. And we could be the responsible citizen of this world and be the miracle and somebody else's life in our own life."
Let's take inspiration from these guys and make waves in our own communities. Stay vigilant.

Follow me on Twitter @VamosVigilante
Follow BurntMD on YouTube @BurntMD
Follow Danny on Youtube @TheCryptoShow1 and @AnRvMoto

Don't miss my new workshop on the two most important issues of our time, The Answer to A.I. and the Solution to the Crypto Onboarding Problem. I believe that we need to get this information out so strongly that we're giving it to you for free. So, hit that link and get ready to dive deep.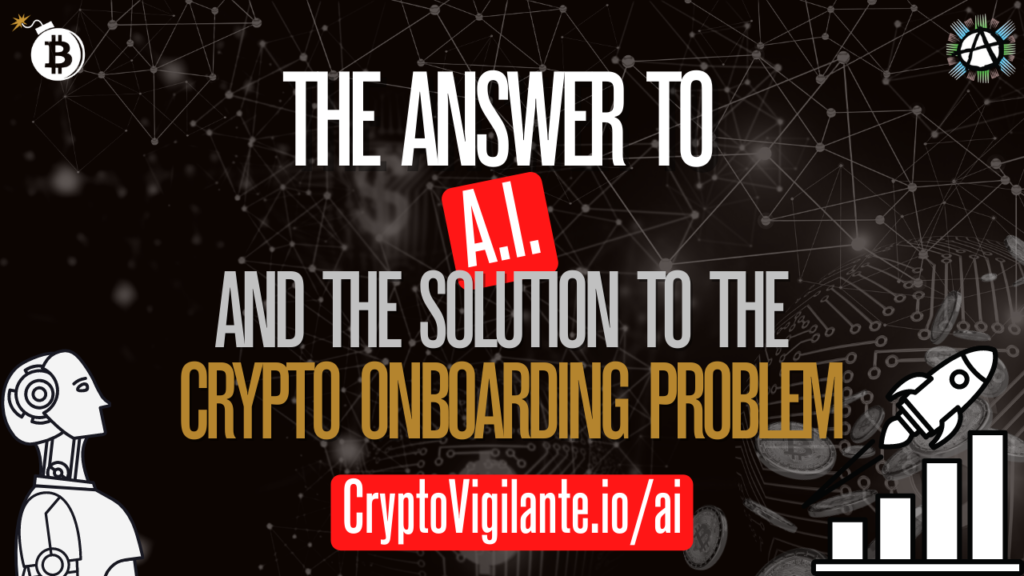 NEW Video: TDV Senior Analyst Ed Bugos shares what he believes will be the biggest short!
TCV Summit: Hardware Basics Edition | TCVsummit.com ⬅️ Replay videos now available!

Download our free Crypto Privacy Guide: https://CryptoVigilante.io/convoy
The Crypto Vigilante (SUBSCRIBE) is the premier financial newsletter specializing in crypto-asset markets. Follow TCV on BitChute, Facebook, Flote, Gab, Instagram, MeWe, Minds, Odysee, Rumble, Streamanity, Substack, TikTok, Twetch, Twitter, Vigilante.tv and YouTube.
Podcast: Play in new window | Download
Subscribe to the TCV podcast: RSS